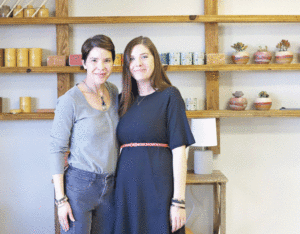 FEBRUARY 22, 2022 BY VROBISON From Moapa Valley's The Progress
The transformation of unit 114 in Mesquite Plaza, across from Los Lupes, is unbelievable and you are going to want to see it. The second you walk into Mesquite's newest gift shop-boutique you will be transported into a southwest heaven.
Next month, on March 17 at noon, Caity Miller and Charlotte Sirianni will host the grand opening of their new shop, Juniper Outpost. Those in attendance will be treated to sandwiches and assorted goodies as well as drawings and give-aways. The grand opening will last the entire weekend.
"We are opening on St. Patty's day because we are both half Irish and half Norwegian," said Miller in an interview last week with The Progress. "We feel like lucky Irish girls and hope the day will bring us more luck."
Miller grew up in Mesquite. She has been the organizer for the yearly "Ladies Night out" hosted at Ace Hardware which brings together vendors from all over the Valley and offers locals a chance to shop for unique items.
Sirianni moved to Mesquite from Minnesota in March of 2019. When she attended the "Ladies Night out," she knew that this annual event needed to become a permanent shop.
The result, Juniper Outpost, is that shop. The store will rotate its inventory often so there will always be something new. They will carry yoga apparel, baby onesies, accessories, jewelry, candles, beverages, blankets, succulents and more.
"I want this to be a place where everyone can find something to take home," said Sirianni.
Miller and Sirianni have put their hearts and souls into renovating this space in time for the upcoming grand opening.
"When people walk in here, we want them to feel inspired," said Sirianni. "We have positioned Juniper Outpost as a lifestyle boutique because we have found that, most times, when you want to get something fun or especially unique for yourself, you have to travel to St. George or to Vegas. We want to offer the opportunity to find amazing things right here in Mesquite."
Sirianni said that the store is focusing on offering specialized items from vendors with a focus on things from the southwest. "We love to support women-owned businesses and items that are more natural or have sensibilities around eco-friendliness," she said.
Juniper Outpost will also act as a consignment shop for artists. The program is very straight forward and leans heavily in the artists favor offering a 60/40 split with the 60% going to the artist. "Sometimes artists create something but don't know how to share it," Sirianni said. "We want to stand behind our artists and create a chance for them to show the community their work."
Meeting vendors has been a very personal experience for the new business owners, and they are enjoying getting to know each artisan personally.
"We met with a man from here in Mesquite, who is a veteran, and he makes the most amazing walking sticks from found wood," said Miller. "They are super lightweight but offer stability and we are so excited to work with him."
Sirianni and Miller agree that they want to tell the stories of their vendors as they help them sell their items.
"The Chamber of Commerce, Jensen Property Rentals and even Sherwin Williams have been amazing to work with," said Miller. "I was blown away at the service they provided for us. We have been open to suggestions from the people we have worked with, and we really feel like this has already been a community collaboration."
Miller and Sirianni hope that Juniper Outpost can be a place that welcomes everyone and brings the community together.
"We want everyone to be able to express themselves however they want," said Miller. "I feel like the women in this community are the backbone and so to have a store to be able to go to and find pretty things that make your day better as you trudge through, I call it, the war – but as you trudge through, life is good and we need that around here."